Thierry Escaich, composer & organist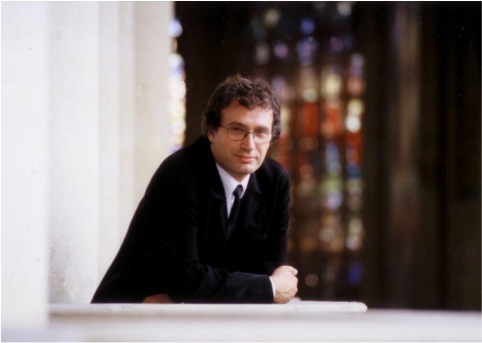 After his periods as composer in residence with the Orchestre National de Lille, the Orchestre de Bretagne and the Orchestra National de Lyon, Thierry Escaich took up his position as associated composer with the Ensemble orchestral de Paris in September 2011. Thierry Escaich was voted Best Composer of the Year at the Victoires de la Musique Classique 2011.
The internationally acclaimed composer, organist and improviser Thierry Escaich is a unique figure who plays a prominent role in contemporary music creation. He considers the three facets of his art as inseparable elements converging together in his urge to render a prolific inner world, an irrepressible need to express. Born in 1965, Thierry Escaich teaches improvisation and composition at the Paris Conservatory (CNSMDP) since 1992, where he himself won 8 "first prizes". Thierry Escaich was appointed organist at the St-Étienne-du-Mont church in Paris in 1997 (succeeding Maurice Duruflé). He tours internationally as a performing artist and composer. He charms the public wherever he goes, combining a large repertoire with his own works and improvisations. His most recent and upcoming engagements include New York, Philadelphia, Los Angeles, Chicago, Toronto, Vancouver, Tokyo, Berlin, Vienna (Konzerthaus and Musikverein), Budapest, Saint-Petersburg, London (the Proms) and many other festivals in France and abroad. His passion for the cinema has led him to improvise on the piano and the organ; he composed the music for Frank Borzage's film Seventh Heaven, commissioned by the Louvre in 1999. As a composer he was first discovered in 1989, when he received the Blumenthal Prize from the Fondation franco-américaine Florence Blumenthal, and through his early works such as the saxophone concerto Le Chant des ténèbres [The Song of Darkness] or Ad ultimas laudes for mixed choir. To date he has written more than a hundred works which, with their rejection of sterile experimentation, their hedonistic echo and rhythmic fever, have attracted a wide audience. Other awards the Prix des Lycéens (2002), the Grand Prix de la Musique symphonique from the SACEM in 2004, and on three occasions, in 2003, 2006 and 2011, the Victoires de la Musique Composer of the Year award. Although he mainly composes for the organ (solo pieces, chamber music, two concertos, La Barque Solaire [The Sun Boat] for organ and orchestra), Thierry Escaich is open to all types of genres and forms, always exploring new sound horizons. One can appreciate his very personal style in the most intimate of works as well as in vast frescos such as the Chaconne (2000) and Vertiges de la croix [Awe and Wonder at the Cross] (2004) for orchestra, or Le Dernier Évangile [The Last Gospel], an oratorio for double choir, organ and orchestra (1999). Most recently, he wrote a ballet for the New York City Ballet which was world-premiered in New York City in May 2010. His music is often performed by the Orchestre National de Lille, Orchestre de Bretagne and Orchestra National de Lyon, where he was composer in residence, as well as by prestigious international orchestras such as the Philadelphia Orchestra, the Berlin Konzerthaus Orchestra, the Mariinsky Theater Orchestra or the Orchestre de Paris. His work has travelled the world with the Radio France Choir, the BBC Choir and musicians such as Christoph Eschenbach, Lothar Zagrosek, Claire-Marie Le Guay, Paul Meyer, Iveta Apkalna, John Mark Ainsley, the Trio Dali and the Quatuor Voce. His numerous recordings speak for themselves. As a performer he distinguished himself with Organ Spectacular (concert improvisations). As a composer his notable recordings include his Organ Concerto No. 1 (Orchestre philharmonique de Liège, Olivier Latry, 2002, the French Diapason d'or de l'année award), Lettres mêlées (Trio Wanderer, 2009), Miroir d'ombres (Gautier and Renaud Capuçon, Orchestre national de Lille, 2007, Monde de la Musique magazine's Choc de l'année award) and Exultet (vocal ensemble Sequenza 9.3, 2006). A new recording of orchestral pieces, with the Orchestre national de Lyon, the violinist David Grimal, the mezzosoprano Nora Gubisch and Thierry Escaich himself will be released in April 2011. All these recordings are released by Accord/Universal.