Michel Plasson, conductor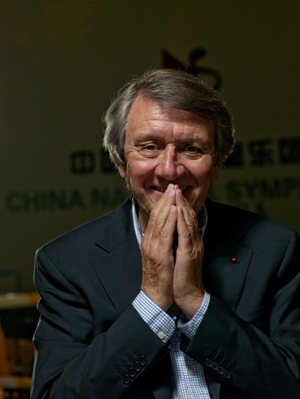 L'Orchestre symphonique national de Chine
sera dirigé par Michel Plasson
Le chef d'orchestre français Michel Plasson (76 ans), qui fut de 1968 à 2003 directeur musical de l'Orchestre national du Capitole, à Toulouse, a été nommé pour un an à la tête de l'Orchestre symphonique national de Chine (CNSO), fondé en 1956 à Pékin. Le maestro, qui a par ailleurs dirigé certains des plus grands orchestres occidentaux, s'est notamment illustré dans le répertoire de la musique française, en enregistrant notamment Carmen, de Bizet, Faust, de Gounod, ou La Mer, de Debussy. Des couleurs françaises qu'il entend défendre en les mettant au programme des dix concerts annuels prévus dans la salle de l'Opéra de Pékin, conçu par l'architecte français
Paul Andreu.
 (AFP) Le Monde
mardi 16 mars 2010
---
Trente années glorieuses ont été celles du mariage parfait d'un artiste et de son orchestre, MICHEL PLASSON et l'Orchestre National du Capitole de Toulouse. La belle histoire a pris fin maintenant. Michel Plasson est désormais libre de ses choix. Les plus grands orchestres, les théâtres d'opéra qui dominent le monde le sollicitent. De Moscou à Milan, de Leipzig aux Etats-Unis, en Chine et au Japon, partout dans les hauts lieux  où règne la musique, Michel Plasson peut s'offrir le bonheur de faire vivre dans les meilleures conditions musicales, les œuvres qu'il aime ; en premier lieu la musique française dont il est le plus éloquent apôtre (plus d'une centaine d'enregistrements pour EMI CLASSICS en témoignent) que ce soit 'Carmen' à Shangai, 'Manon' et 'Faust' à Palerme, 'Werther' et 'Roméo et Juliette' à la Maestranza de Séville, 'Le Cid' à Zurich, 'Les troyens' à Strasbourg, 'La damnation de Faust' à Tokyo, 'Werther' à l'Opéra Bastille etc. De même, dans le domaine du concert, beaucoup des plus prestigieux orchestres européens ainsi qu'au Japon, en Russie etc. l'invitent fidèlement. Il a également fait de nombreux enregistrements pour Berlin Classics avec l'orchestre philharmonique de Dresde dont il a été chef principal pendant 7 ans. Michel Plasson est actuellement Principal Conductor du China National Symphony Orchestra à Pékin et vient d'être décoré Commandeur de la Légion d'Honneur par le Gouvernement Français.
---
30 glorious years were those of a perfect marriage between a conductor and his orchestra, between MICHEL PLASSON and the Orchestre National du Capitole de Toulouse. This beautiful story ended. Michel Plasson is now free of his own choices. The most important orchestras and operas in the world invite him. From Moscow to Milano, from Leipzig to the States, in China and in Japan, in every famous places where music reigns Michel Plasson can afford himself to make live the works he loves in the best musical conditions, the works he likes; first of all French music whose he was and is the most eloquent apostle (more than a hundred recordings for EMI CLASSICS testify of it) but also 'Carmen' in Shangai, 'Manon' and 'Faust' in Palermo, 'Werther' and 'Roméo et Juliette' at the Maestranza of Seville, 'Le Cid' inZurich, 'Les troyens' in Strasbourg, 'La damnation de Faust' in Tokyo, 'Werther' at the Opéra Bastille etc. In the concert realm, he is the frequent guest of the most prestigious orchestras internationally. He has made numerous recording recordings for Berlin Classics with the Dresden Philharmonic ORcehstra, where he served as Principal Conductor for 7 years. Michel Plasson has been appointed as the Principal Conductor of the China National Symphony Orchestra in Beijing and he has been decorated Commandeur e la Légion d'Honneur by the French Government.